While discussing, What is NetSuite? And about the features and benefits of NetSuite ERP, it would be meaningful to know more in detail about Enterprise Resource Planning (ERP). It sounds great a business running on a pattern, turns its productivity and profitability by 200 – 300 % in the upcoming year. To achieve this you need to spend hundreds of extra hours, employ more resources, rush with time, to have a chance to achieve this beautiful score.
This result is difficult to achieve traditionally. But with an evolving Enterprise Resource Planning software, this is definitely achievable.
What is an Enterprise Resource Planning (ERP) Software?
The simplest way to define ERP is to think about all the core business processes demanded to run company finance, HR, manufacturing, supply chain, services, procurement, and others. At its utmost introductory level, ERP helps to efficiently manage all these processes in an integrated system. It's frequently referred to as the system of record of the association. An ERP Software manages and integrates day-to-day business activities, similar as fiscal, procurement, product, service, human resource, and other activities. ERP eliminates duplicate data and provides data integrity by collecting a company's shared transactional data from multiple sources.
In short, ERP (Enterprise Resource Planning) is a suite of applications that is built to manage and integrate core business processes. It saves millions of bucks, facilitates data transferring between teams and departments, quick and original data, real-time reports, and a single solution for all departments in your business.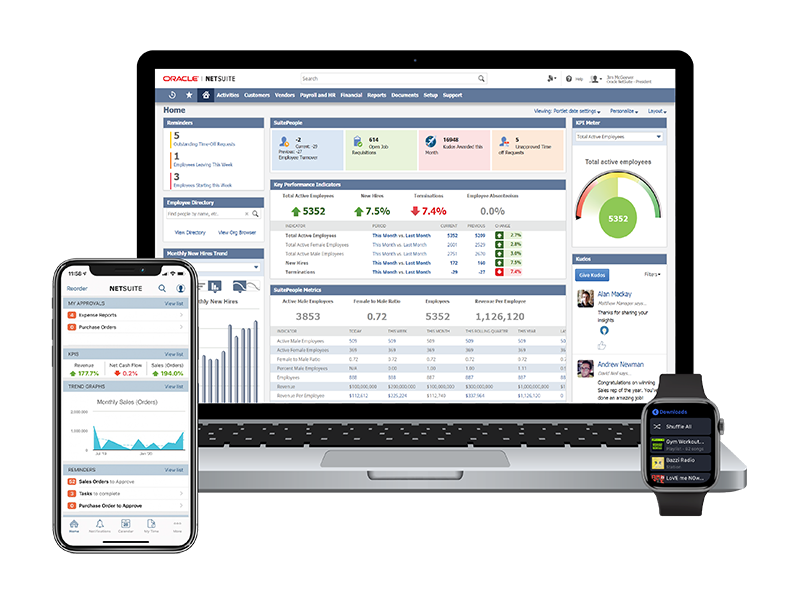 NetSuite is an ERP product launched by IT entrepreneur Evan Goldberg in 1998 with the name of 'NetLeadger'. Later, it is acquired by Larry Ellison, founder of Oracle (who was a key investor in NetSuite) in 2016. Since the Oracle acquisition in 2016, NetSuite has continued to operate as an Independent Global Business Unit with the majority of the previous team. NetSuite is the very first cloud computing company even launched 1 month before the leading aggregator Salesforce.
How many products NetSuite have to License?
NetSuite provides a suite of cloud-based applications, which includes financials / Enterprise Resource Planning (ERP), HR, professional services automation, and omnichannel commerce, used by 28,000+ companies or organizations in 200+ countries. NetSuite has six main categories of products that have been sold in individual licensing via a subscription model.
NetSuite ERP (Enterprise Resource Planning Software)
NetSuite ERP is a secure, reliable, and scalable platform that gives organizations clear visibility and control of their business from financials to supply chain, order management, procurement, production management, and warehouse management. NetSuite ERP allows you to streamline business processes, accelerate growth, and drive innovation. It provides support for back-office operations. NetSuite's ERP application has long been recognized as a leader by industry experts such as Gartner, Forrester, and CODiE and used by leading companies globally.
NetSuite CRM (Customer Relationship Management)
NetSuite Customer Relationship Management (CRM) helps is a cloud-based customer management software that enables companies to manage all their prospects, customers, partners, and vendors in a single place. NetSuite CRM includes Salesforce Automation, Sales order management, leads management, and integrates with other important tools.
NetSuite PSA (Professional Service Automation)
NetSuite PSA an end-to-end cloud-based PSA platform, a part of NetSuite Services Resource Planning solution provides support for professional service-based organizations that need to track and manage project time and expenses, staff, and provides full project accounting. NetSuite has two product offerings (OpenAir & NetSuite PSA) for organizations desiring a PSA solution.
NetSuite Cloud Accounting Software
NetSuite Cloud Accounting Software is a single platform for all your accounting needs. It simplifies the process of recording transactions, collecting taxes, accurate reporting, managing account payables, and receivables, preparing journal entries for transactions and managing ledger accounts, and closing the books and enables timely. With real-time access to financial data, you can quickly drill into details to resolve issues and generate statements. NetSuite Cloud Accounting Software ensures compliance with accounting standards, government regulations, tax codes, and internal policies.
NetSuite Human Capital Management
NetSuite's SuitePeople Human Resource Management is a tool that brings Financial and HR data together. It provides a suite of functionalities that make HR service delivery easier and more efficient for everyone across the organization. The tool empowers employees and managers to securely accomplish common HR tasks, like changing addresses, initiating promotions, or viewing time-off balances, at any time. With workforce information shared across the NetSuite HCM, human resources leaders can automate HR processes to reduce administrative time spent on common tasks and easily route information for approvals.
NetSuite's Ecommerce application well known as SuiteCommerce is a fully integrated platform for online e-commerce and in-store point of sale (POS) applications supporting both B2B and B2C business models.  NetSuite SuiteCommerce is currently used by 2000+ small, mid-level, and large enterprises across the world, especially in USA. NetSuite Commerce helps businesses to move away from siloed online and in-store channels and seamlessly connect all customer touchpoints. NetSuite Commerce creates an innovative experience by web and POS configuration for B2C and B2B model with ultimate business agility.
What are the Features and Benefits of NetSuite ERP?
NetSuite ERP software combined with STREAMS expertise, as a leading NetSuite Solution Provider in Virginia, Washington DC, rest of USA, Canada, and Singapore creates tremendous value to our customers and partners. An ERP software provides numerous benefits to businesses in order to run their operations. NetSuite, a cloud-based ERP system, allows you to access your data in real-time and from anywhere while always operating on the same release as other customers. Its proven track record not only provides a positive ROI for businesses that run it but also peace of mind. Some of NetSuite's top features are:
User Friendly
Business Intelligence
Scalability
Industry Optimization
All-in-one Business Solution