Business Software is an essential tool to a company or organization rely on which that is being used for daily business management and shaping the activities whether it is accounting software, HR software, CRM, or ERP. By definition, Business Software is a combination of different technologies that is being used to perform a specific business task, reduce time consumption and cost on resources, improve productivity.
Since the evolution of business and modern human civilization, we managed different modes and technology to manage data, business essentials, and customer-vendor relationships. We used leaf and Hard sheets of paper to prepare various books in the Double Entry System, Indian Accounting System, and others. Since technology shaped, we replaced multiple processes through technology whether it is accounting term, machinery, or evolution of robotics.
Here, we have brought a list of 10 best business software a company must have in 2022 to improve overall performance.
NetSuite ERP
Salesforce CRM
Jira
Odoo
Bitrix24
Zoom
Engagebay
Quickbooks
Office 365
Dynamic Web Platform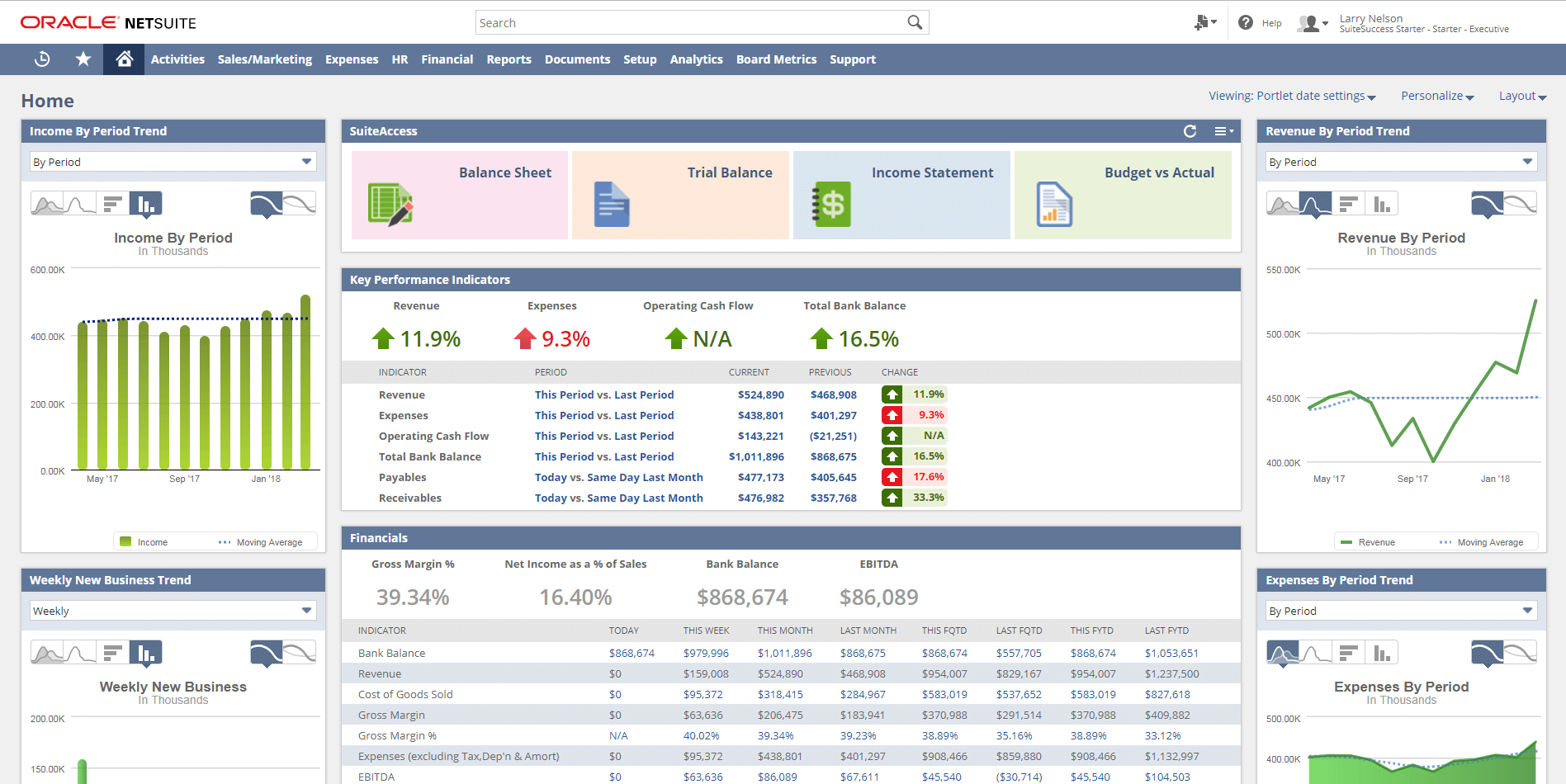 NetSuite ERP is a secure, reliable, and scalable platform that gives organizations clear visibility and control of their business from financials to supply chain, order management, procurement, production management, and warehouse management. NetSuite ERP allows you to streamline business processes, accelerate growth, and drive innovation. It provides support for back-office operations. NetSuite's ERP application has long been recognized as a leader by industry experts such as Gartner, Forrester, and CODiE and used by leading companies globally.
Features of NetSuite ERP
These are the key features of leading ERP solution provider Oracle NetSuite:
| | | |
| --- | --- | --- |
| Order-to-Cash | Fixed Asset Roll forward | Demand Planning Engine |
| Procure-to-Pay | Integrated Financial Reporting | Gross Requirements Inquiry |
| Audit Trail Visibility | Flexible Payment Acceptance | Supply Chain Intelligence with MRP |
| Tax Management | Global Ready | Cost Management |
| Flexible Depreciation Management | Fraud Prevention | Flexible Payment Processing |
| Workflow Management |   |   |
Order-to-Cash
Procure-to-Pay
Audit Trail Visibility
Tax Management
Flexible Depreciation Management
Workflow Management
Fixed Asset Roll forward
Integrated Financial Reporting
Flexible Payment Acceptance
Global Ready
Fraud Prevention
Flexible Payment Processing
Demand Planning Engine
Gross Requirements Inquiry
Supply Chain Intelligence with MRP
Cost Management
Order Fulfillment
Inventory Control
Inventory Visibility
Integrated Process Workflow
Centralized Vendor Management
Routing and Approval
Shop Floor Management
Product Costing
Manufacturing Routing
Bill of Materials
Materials Resource Planning
Flexible Billing Scheduling
Integrated Process Workflow
Human Capital Management
Core HRIS
Payroll Services
Incentive Compensation Management
NetSuite TribeHR
Benefits of NetSuite ERP
Branded as the world's no. 1 Financial Management solution
Complete visibility of your supply chain
Fast track quote-to-quote process
Streamlined fulfillment flow and keep customers happy
Accurate Revenue Recognition Management
Optimize Your Employees' Capabilities
Get the Most Out of Your Recurring Revenue Streams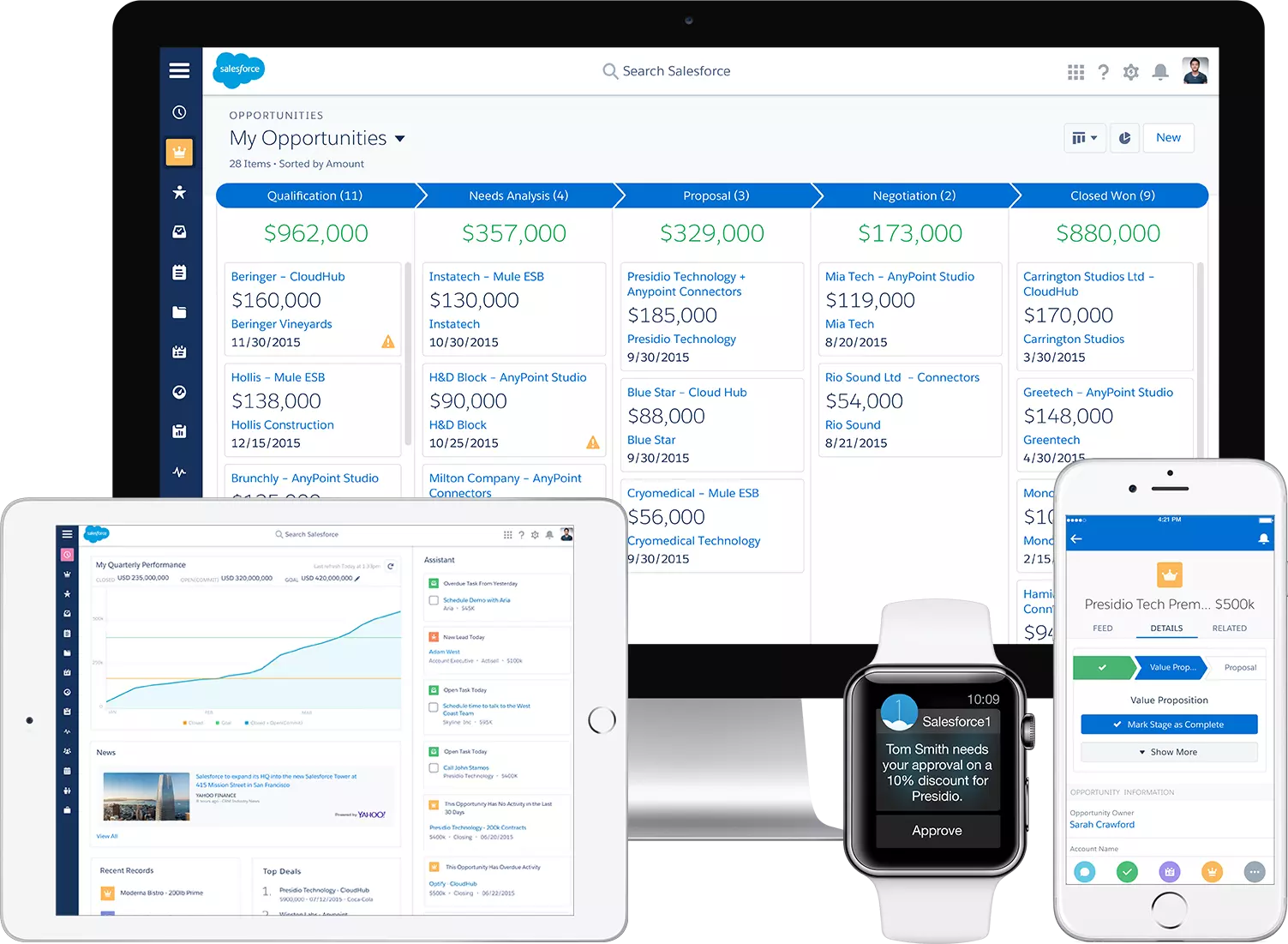 Salesforce CRM is one of the best cloud-based Customer Relationship Management software used by most of the leading MNCs and other organizations. Customer relationship management is a process in which a business or other organization administers its interactions with customers, typically using data analysis to study large amounts of information. In other words, CRM stands for "Customer Relationship Management" and refers to all strategies, techniques, tools, and technologies used by enterprises for developing, retaining, and acquiring customers. This is #2 in our list of Best Business Software in 2022.
Features of Salesforce CRM
Here are the key features of Salesforce CRM:
| | | |
| --- | --- | --- |
| Quote Management | Opportunity Management | Lead Management |
| Quote to Cash | Einstein Analytics | Mobility |
| Contact Management | Trailhead | Sales Forecasting |
| Partner and Channel Management | Territory Management |   |
Quote Management
Quote to Cash
Contact Management
Opportunity Management
Einstein Analytics
Trailhead
Lead Management
Mobility
Sales Forecasting
Partner and Channel Management
Territory Management
Benefits of Salesforce CRM
In executing customer relationship management (CRM), you should know that it has a life cycle. This begins with marketing, moves to sales, then goes back to marketing and sales to keep the relationship. The roles of CRM are usually sharing files, showing sales, messaging colleagues, integrating emails, and using dashboards. However, Salesforce, the #1 CRM software in the world, goes beyond those features by having a marketing automation and a customer service tool. Here are the key benefits of Salesforce CRM:
Communicate Using Automation Tools
Utilizing data analytics tools
Syncing data from various applications
Using an omnichannel feature
Consistent engagement with current customers
View your audience in one place
Gather insights to understand your business better
Build apps
Read Also: Top 10 Data Integration Tools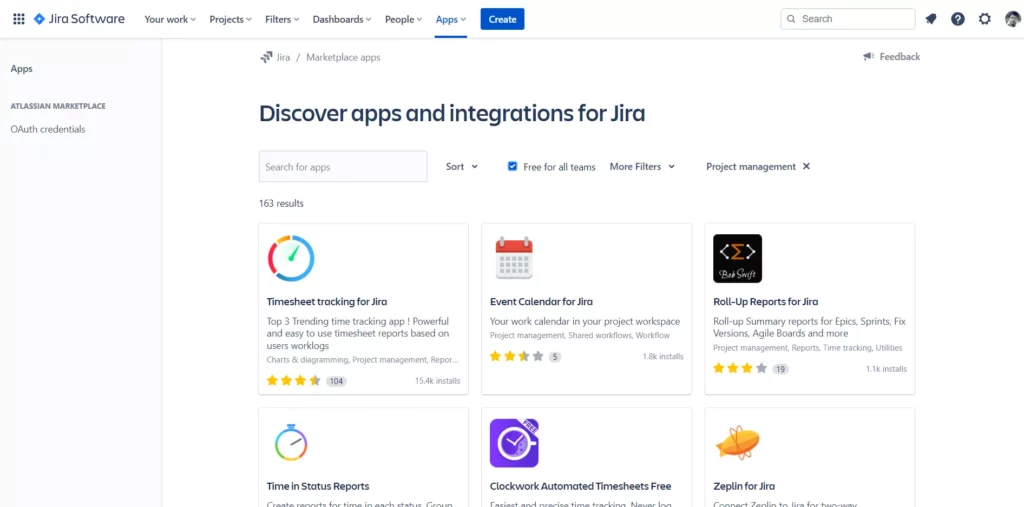 JIRA is a project management tool developed by Atlassian in 2002 as a bug and issue tracking platform for software developers. Later with multiple featured updates it is well known for agile project management software worldwide. Jira Software is agile project management tool designed for the teams of every shape and size. There are three different packages of Jira. This includes 'Jira Core', a basic project management software, 'Jira Software' combines features of Jira Core with Agile functions, and 'Jira Service Desk' is specifically designed for professionals working in technology or alternative service desks.
Features of JIRA
To be competent as one of the best project management tools of today, Jira brings a myriad of unique functionalities and features. Let us have look at the most dominant features:
| | | |
| --- | --- | --- |
| Jira Project Tracking | Great Product Integrations | Issue Templates |
| Agile Development  | Issue Creation | Activity Log |
| Mobile Applications | Extensive Jira Search | Time Tracking with Color Indication |
| Various Advanced Reports in Jira | Real-Time Notification | Unparalleled Connectivity with Jira Add-Ons |
| Jira Security | Roadmaps |   |
Jira Project Tracking
Agile Development
Mobile Applications
Various Advanced Reports in Jira
Jira Security
Unparalleled Connectivity with Jira Add-Ons
Great Product Integrations
Issue Creation
Extensive Jira Search
Real-Time Notification
Roadmaps
Issue Templates
Activity Log
Time Tracking with Color Indication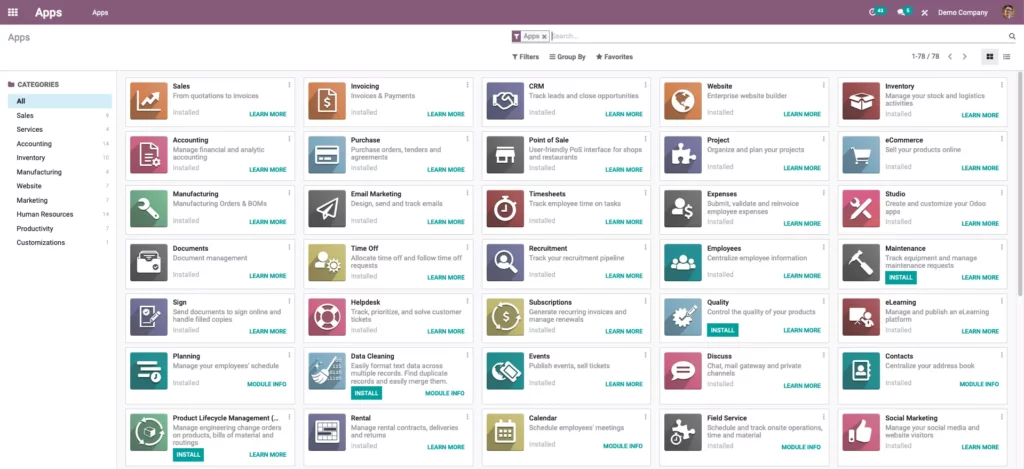 Odoo is a suite of open-source business management software tools including CRM, e-commerce, billing, point of sale, accounting, manufacturing, warehouse, project management, and inventory management. It is a great tool for small enterprises. Odoo apps are perfectly integrated with each other, allowing companies to fully automate their business processes and reap the savings and benefits. So why it is #4 in our list of Best Business Software in 2022. It is also recognized and used by Top Organizations i.e., Toyota, Hyundai, and PCI. The best thing is, it is a freemium software which some important features you may use for free lifetime.
Features of Odoo
It is an open-source software
Easy to learn
It is flexible and easy to customize
Can help to manage a range of industries
It is available in 32 languages
14000+ business solution software at Odoo Store that can integrate easily
Integrated Scalability (you can use the variety of modules in Odoo as per your business growth)
All in one Accounting, Billing, Inventory Management, E-commerce, CRM, ERP, POS, SMS, Marketing, and Project Management Tools available at low cost.
Benefits of Odoo
Low cost of implementation
One solution for your entire business
Customizable
Easy to implement
Easy integration
Security
Scalable
Powerful Community
Intuitive user interface
Multiple options to choose from, i.e., three editions in Odoo
Read Also: What is Jitterbit?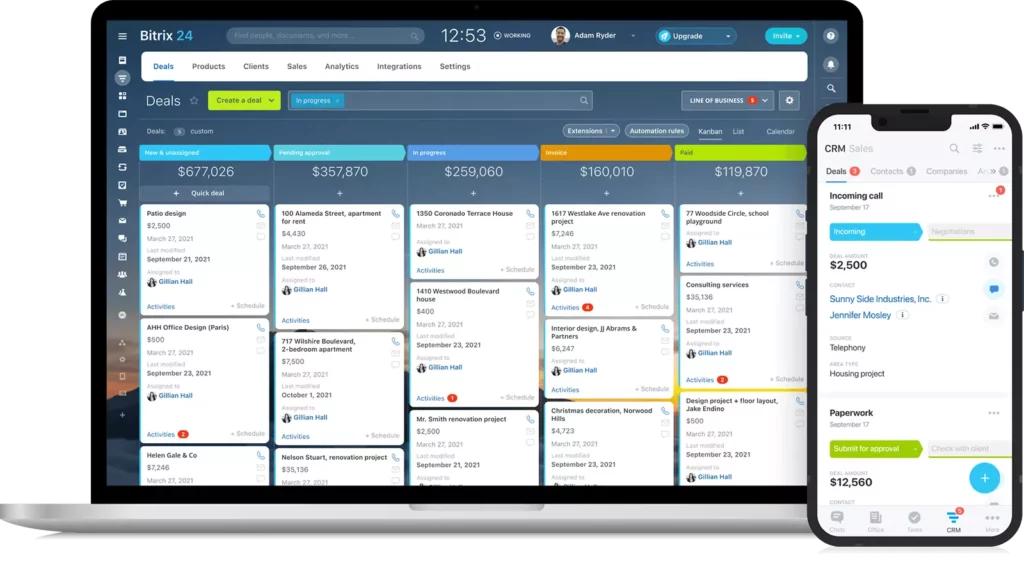 Bitrix24 is an open-source CRM business suite that provides a platform to organize and track interaction with potential or existing clients, partners, agents, and other contacts; founded by CEO Sergey Rizhikov and four fellow Russian businessmen in 1998. Bitrix24 is a unified platform for files, projects, messages, tasks, and contacts. The tool is made up for all sizes of business organizations. The key thing that makes this software different is it supports both web-based and mobile applications suitable to your iOS and Android devices.
As a collaboration tool, it offers Collaboration, CRM, Project management, Document management, Time management, and HR management tools.
| | | |
| --- | --- | --- |
| Instant messages | User Profiles | CRM reports |
| Calendar sharing | Time management | Simple access assignment |
| CRM | Email notifications | Sales funnel |
| Company structure | Tasks | File sharing and versioning |
| Bulk email | Project groups | Activity Stream intranet center |
| Daily planner | Task reporting | Photo albums |
| Extranet | Workflow |   |
Instant messages
Calendar sharing
Activity Stream intranet center
CRM
Company structure
Bulk email
Daily planner
Extranet
CRM reports
Simple access assignment
Sales funnel
File sharing and versioning
Photo albums
User Profiles
Time management
Email notifications
Tasks
Project groups
Task reporting
Workflow
Benefits of Bitrix24
The core benefits of the Bitrix24 Software are its robust features, flexible pricing, and scalability.
CRM Integration
HR Management
Time Management
Manageable and Secure Communications
Better Company Structure Using Management Tools
Flexible Plan Options
Web and Mobile Accessible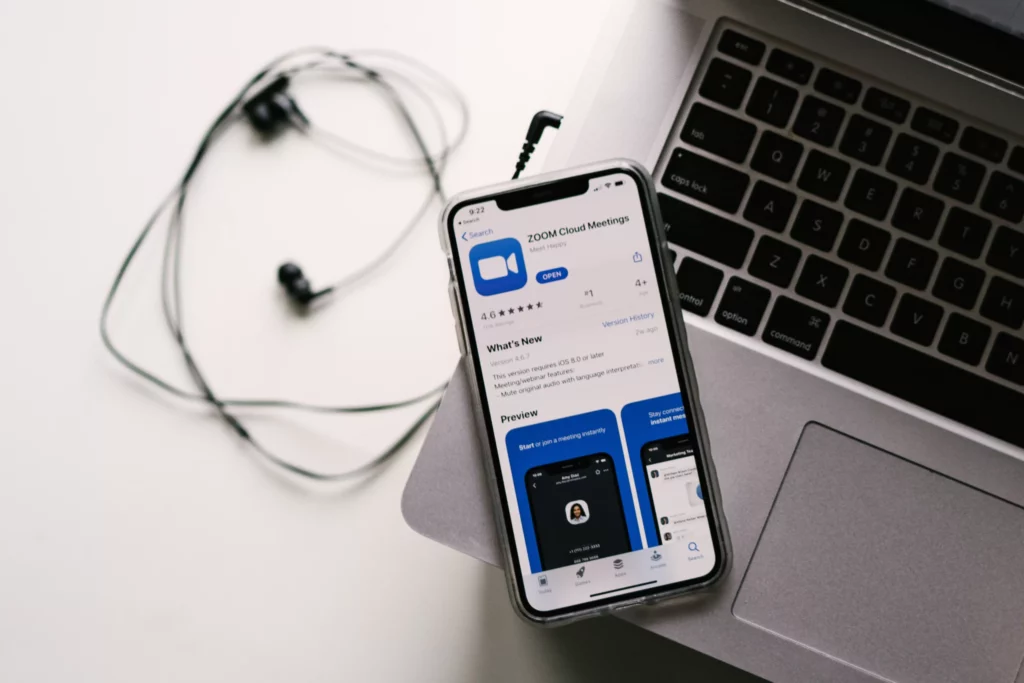 Zoom is a cloud-based video communications app that allows you to set up virtual video and audio conferencing, webinars, live chats, screen-sharing, and other collaborative capabilities. It is an essential video conferencing software seen a dramatic change in its growth and importance after and during the Pandemic adopted by all sizes of teams, companies, organizations, institutions, and individuals. Hence #6 in our list of Best Business Software in 2022 and maybe it could include in the all-time Business Software list as well. It is far ahead in competition with nearest competitors like Microsoft Team, Google Meet, Cisco Webex, and Skype. Video Conferencing is not a new technology, but its popularity increased by thousands of percentages these days dramatically.
| | | |
| --- | --- | --- |
| Zoom Bombing | Waiting Room | Salesforce Integration |
| Zoom Rooms | In meeting Chat | Listen (Monitor) |
| Virtual Background | Recording | Call Delegation |
| Raise Your Hand | Breakout Rooms | Call Blocking |
| Personal Meeting ID | Screen Sharing | End-to-end Encryption |
| Remote Support | Mobile and Web based | 100+ Business Application Integration |
Zoom Bombing
Zoom Rooms
Virtual Background
Raise Your Hand
Personal Meeting ID
Remote Support
Waiting Room
In meeting Chat
Recording
Breakout Rooms
Screen Sharing
Mobile and Web based
Salesforce Integration
Listen (Monitor)
Call Delegation
Call Blocking
100+ Business Application Integration
End-to-end Encryption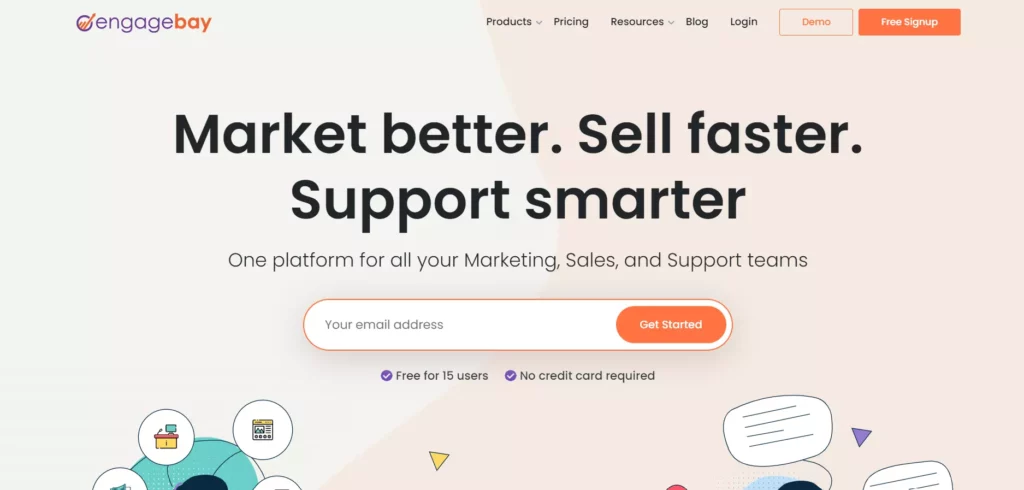 EngageBay is an integrated cloud-based marketing, sales, support, and CRM solution designed to help small to midsize enterprises acquire, engage, and convert website visitors into customers. It has various great robust features that strengthen its position in our list of Best Business Software 2022. It is a great tool that is being used on a broad basis for marketing and sales. To send email campaigns, SMS campaigns, attractive leads with various popup and embedded forms, click to chat options, are the broadly recognized features from EngageBay.
Features of EngageBay:
SEO tools
Email marketing campaigns
Marketing automation
Email sequences
Landing pages, web forms, social media monitoring
Benefits of EngageBay
Simple and powerful automation
An affordable option for small businesses
Gentle learning curve
Plenty of useful integrations
Their Service Bay Help Desk is entirely free
QuickBooks is an accounting software developed by Intuit that provides desktop and cloud-based accounting applications. It offers solutions for managing personal, business, and tax finances. QuickBooks automates many aspects of managing your business by calculating sales tax, tracking products, and automatically updating transactions in your register, customer, and vendor areas. It is one of the best accounting tools for small and mid-level businesses.
| | | |
| --- | --- | --- |
| Data Migration | Chart of Accounts | Invoices Generation |
| User-friendly | Billing and Invoices | Tax Calculations |
| Plain Sailing Process | Customized Reports | Business Projections |
| Bank Transactions | Third Party Integration | Vendor, Customer, and Item Lists |
Data Migration
User-friendly
Plain Sailing Process
Bank Transactions
Invoices Generation
Tax Calculations
Business Projections
Vendor, Customer, and Item Lists
Chart of Accounts
Billing and Invoices
Customized Reports
Third Party Integration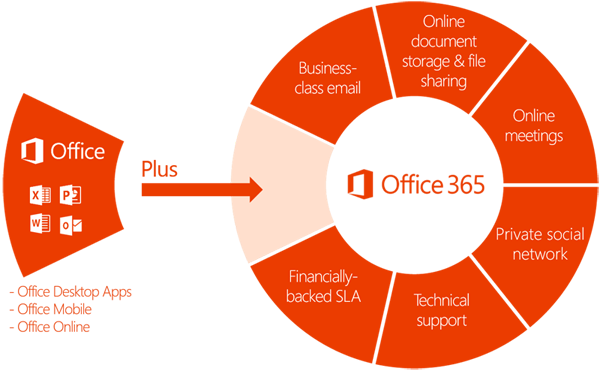 Microsoft Office 365 is a cloud-based SaaS solution that is designed to help meet your organization's needs for robust security, reliability, and user productivity. Launched by Microsoft back in June 2011, this subscription-based service is paid on either a monthly or annual basis providing an incredibly cost-effective way for organizations to consume their production workloads. It is an important software service all levels of organization needs. Therefore, we have added Office 365 to our 2022 list of Best Business Software.
Office 365 includes the same basic desktop applications as traditional versions of Microsoft Office, such as Word, Excel, PowerPoint, and Outlook, as well as several other applications and online services for cloud file storage, secure communication, and collaboration. Tools like Planner, OneDrive, Exchange, SharePoint, Yammer, and Microsoft Teams come together to provide an unparalleled user experience.
Features of Office 365
As we know, Office 365 is a bundle of great Microsoft tools we are using for decades i.e., Excel, Powerpoint, Word, Outlook for various purposes and the case is like this that we can say 'Who has not used Microsoft Tools who knows at least little bit about computers, no one'. So, here we have listed some key attractive and new features of Office 365:
Real-time co-authoring (Word, Excel, PowerPoint)
Inserting links to stored files instead of sending entire files to co-workers
Chat and meeting with co-workers in Office apps – TEAMS
Turning OneNote items into Outlook calendar events
Power Map in Excel: Turning data into a map
Bing Will Automatically Suggest Images
PDF Editing
Reply in-line to email without opening it
Working anywhere from any device
Office Planner to help organize your team's workflow
Benefits of Office 365
Secure Cloud Storage
Access Files from Anywhere
Predictable spend
Business Intelligence
Advanced Security Features
Simplified Virtual Communication
Ability to Work on Remote
Subscription-based Model
Collaboration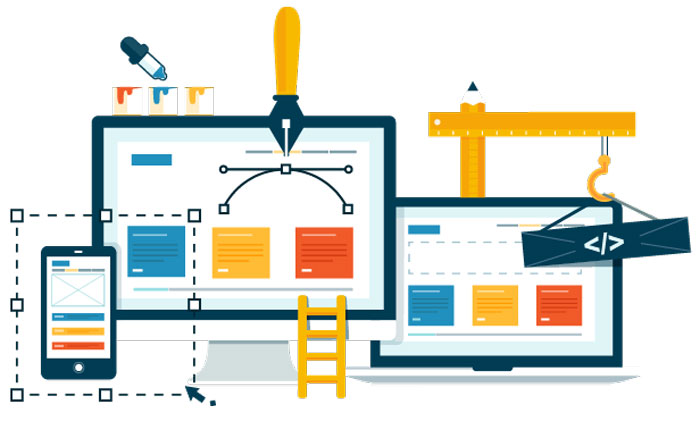 Considering the amount of time people spend on the internet, current scenario, and living culture, businesses too have moved online. It has become crucial for business owners of any size to have a website and a strong presence on social media. If you are into a business and do not own a website, you might be losing a lot of potential customers that you can get online. Online platforms are drivers of growth, innovation, and competition, which enable businesses and consumers to make the most of the opportunities provided by the digital economy.
A dynamic website or dynamic web page contains information that changes, generated in real-time, depending on the viewer, the time of the day, the time zone, the viewer's native language, and other factors. It plays with viewers' activity and displays the content that the viewer needs. We recommend having a strong online presence over directories, local business forums, strong social media appearance, strong and continuous visibility on Search Engines which is not leads to only your brand awareness but also attracts more potential customers.
Benefits of Dynamic Web Platform
24/7 Online Presence
Information Exchange
Cost Cutting
Credibility
Broad Market
International Brand Awareness
Consumer Insights
Concise and Impactful Advertisement
High Customer Engagement
Various Multiple Growth Opportunity
We have brought an extensive list of Business Software that should be in the bucket of all organizations that are growing or aspiring to grow. Technology is a bigger part of business growth hacks. We at STREAMS Solutions is are a leading Data Integration Company and preferred technology partner for 100+ organizations in North America. Contact our experts here to get a free consultation to improve your brand visibility, cost reduction, increased productivity, and better business growth.