NetSuite is the leading integrated cloud business software suite owned by Oracle, including business accounting, ERP, CRM and ecommerce software helping you run your business using one unified system.  It is a bunch of software that handles day to day business activities for all your departments. NetSuite offers plenty of ways to integrate other market leading software with NetSuite. Herein, we have mentioned 5 best NetSuite Integrations for Your Business. 
It is a way to leverage the ultimate power of NetSuite by integrating NetSuite with other tools your business is using for sales processing, marketing automation, and more. To ascertain which integrations you need for NetSuite, you must look at the ecosystem that your business or organization operates in, including all the parties and activities your company interacts with on a daily, weekly, and monthly basis.
In a constant way, we're talking about integrating your core business system (NetSuite ERP) with all your tools and third-party applications – from HubSpot for Marketing, Salesforce as your CRM to your online store (ex: Shopify), and even industry-specific systems geared towards your business.
What are the NetSuite Integrations that you should be setting up today?
We're running you through the top five!
1. Boomi Integration
2. Salesforce Integration
3. Shopify Integration
4. HubSpot Integration
5. Workday Integration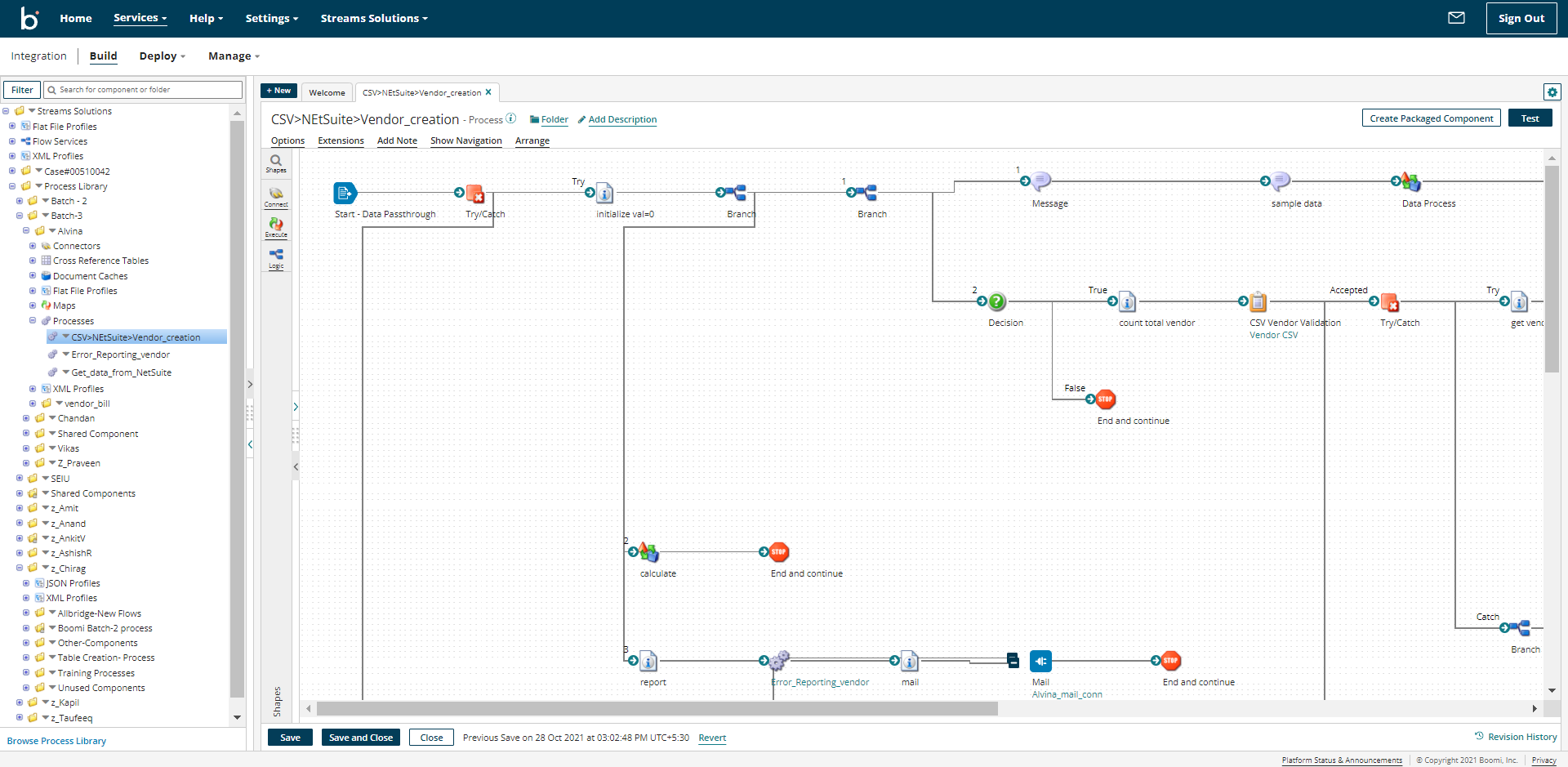 Boomi NetSuite Integration
As a business, you want your departments to communicate and unite for a flawless inflow of information. Boomi is one of the best connector tools when it comes to erecting out integrations to NetSuite as your core platform. Boomi is a highly capable cloud data integration platform that can connect NetSuite to all your other business functions and data. It helps in data restructuring and formation, as well as data sharing between two or more business software.
Boomi is the leader in connecting NetSuite with applications, data, and devices.
Key Capabilities of Boomi NetSuite Integration:
Maximized efficiency and efficacy with automated workstreams
Better collaboration across teams with reduced complexity
Fully synchronized data and updates for accurate status tracking
Faster insights to support decisions
Minimized retooling of existing technology
Read More: Why do businesses prefer to choose Boomi as iPaaS Solution?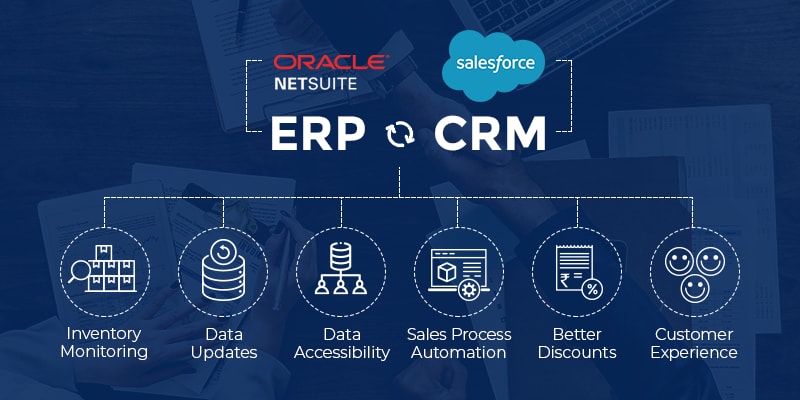 Salesforce NetSuite Integration
NetSuite Salesforce integration helps the users in combining the functionalities of a leading CRM and world's No. 1 ERP platform helping businesses in streamlining sales processes and carrying them out in an organized manner. NetSuite Salesforce integration services provide you a centralized platform for carrying out important financial transactions and obtain valuable financial insights using your CRM data.
Key Features of NetSuite Salesforce Integration:
Cross-selling and Up-selling
Integrating CRM With ERP For Effective Sales
Automate Sales Leads into NetSuite Accounting and Vice Versa
Error-free and Real time Data Updates
Centralized Management for Ecommerce Transactions
360-degree view of Customer Data
Improved Cash Flow Efficiency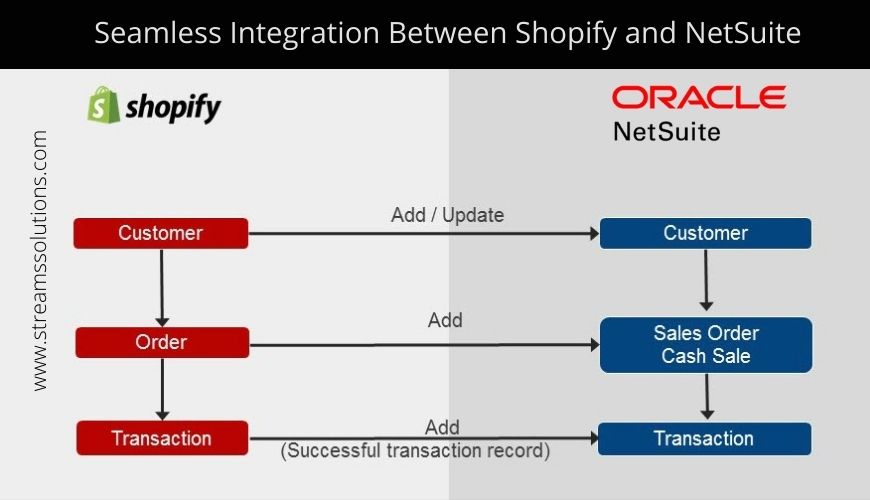 Shopify NetSuite Integration
By integrating Shopify into the NetSuite infrastructure, you can synchronize transaction numbers of orders processed by Shopify with your back office so that you can automate changes to orders, returns and refunds. With NetSuite running in the background, the automation of refunds and returns becomes a seamless process as it looks at the transaction numbers associated with Shopify orders and follows predefined criteria to reduce delays for customers.
Shopify is the frontend and NetSuite is the backend where you process and manage customer orders with the Shopify integration. Shopify customers can order directly on the marketplace website and send orders directly to the management system architecture of the platform. Because Shopify is integrated with each other, customer information, including shipping addresses, can be accessed through NetSuite ERP where it can be used for operation, shipping, and delivery.
Integration with Shopify and NetSuite integration connectors solves a fundamental problem with non-integrated systems: the networking of processes, the exchange of information and the improvement of system and data transparency. Such complex integrations between NetSuite and Shopify can be a developers worst nightmares: processes with hundreds of failed processes and hundreds of test protocols required to identify problems.
Read Also: What is Jitterbit? Features and Benefits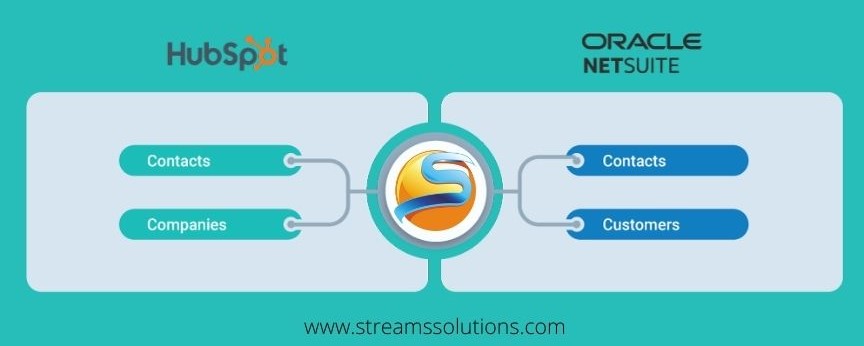 HubSpot NetSuite Integration
HubSpot Integration is the next important NetSuite Integration in everyone's bucket. HubSpot is a Marketing and CRM tool, allowing to control and track marketing activities, campaigns, leads, and D2C data. HubSpot has powerful full-funnel analytics reporting to give insight into what's driving growth in customers and revenue. Its services are centred around sales and marketing tools, help a company to refocus their marketing efforts into inbound marketing. STREAMS supports in streamlining your marketing operations by integrating HubSpot to NetSuite and other business applications.
Key Features of HubSpot NetSuite Integration:
NetSuite CRM+ users can view HubSpot's Lead Intelligence for every lead, helping sales teams better qualify and connect with their leads.
HubSpot's social media tools help you monitor your brand and market to new buyers.
NetSuite E-commerce online sales are reported back in HubSpot, helping Marketing determine which campaigns generate traffic, abandoned carts, and sales.
HubSpot's CMS, blogging, search engine optimization (SEO) and social media tools help generate more traffic to your NetSuite E-commerce website.
HubSpot's landing pages, lead nurturing, and email marketing tools help convert more traffic to leads and sales.

Workday NetSuite Integration
Workday is a cloud-based service company specializes in Human Capital Management, Enterprise Resource Planning, and Finance Management. Workday is the leader in SaaS-based enterprise solutions for global human resources, payroll, and financial management. Companies opt Workday to control and optimize their human resource department. Workday offers several integration options to NetSuite like delivered NetSuite Connector, Saved Search Integration and Custom Cloud bundle for CCDS Integration (for Saved Searches).
Workday integration platform allows you to integrate to NetSuite Reports via web-query. Workday NetSuite Integration opens the door for Workday customers to integrate their HCM solution with the world's leading cloud ERP solution. STREAMS can help to cast the right iPaaS to resolve Workday and enterprise cloud integration challenges that is technologically and cost effective.
Read Also: 10 Best Business Software in 2022
United States based NetSuite Consulting company STREAMS will help you gain better insight of your business data processing resulting a better outcome with a high conversion rate. We design and develop your NetSuite ERP and other tools to get error free real time data insights, increase cross-sale and up-sale, enhance productivity, and profitability.