The dynamics of the digital and IT business sphere are incredibly competitive and evolving, which makes every business realize the need for integration and coordination between not only teams but also software. However, you are on the right track, if you are using Boomi to built coordination between your different software. Boomi has been a popular choice for many businesses as the iPaaS platform. Depending on where you are in your iPaaS research, you may be asking 'What is Boomi?'
What is Boomi?
Boomi is an enterprise integration platform as a service (iPaaS). Apart from other traditional integration platforms, Dell Boomi Atmosphere provides a user-friendly User Interface (UI) for the development and maintenance of business processes, all at a single place.
Before Dell acquired Boomi, it was a company founded by Rick Nucci in 2000. Boomi originally focused on ways to improve on-premises, middleware appliances for orchestrating EDI & B2B logistics, eventually moving into integration, terming "middleware in the cloud."
In 2010, Dell acquired Boomi to help their customers with their increasing integration challenges due to the sheer number of systems in use. Boomi has been Dell's fastest-growing acquisition as they continue to focus on cloud computing.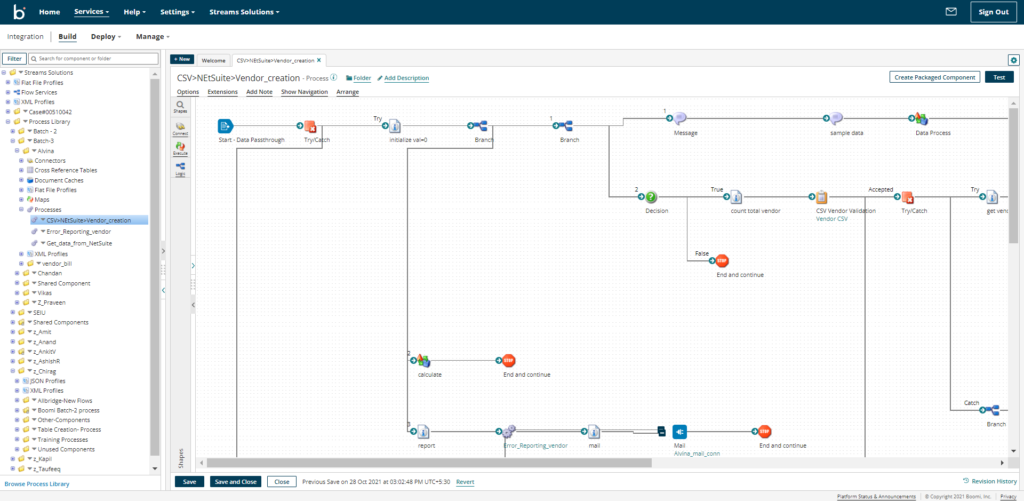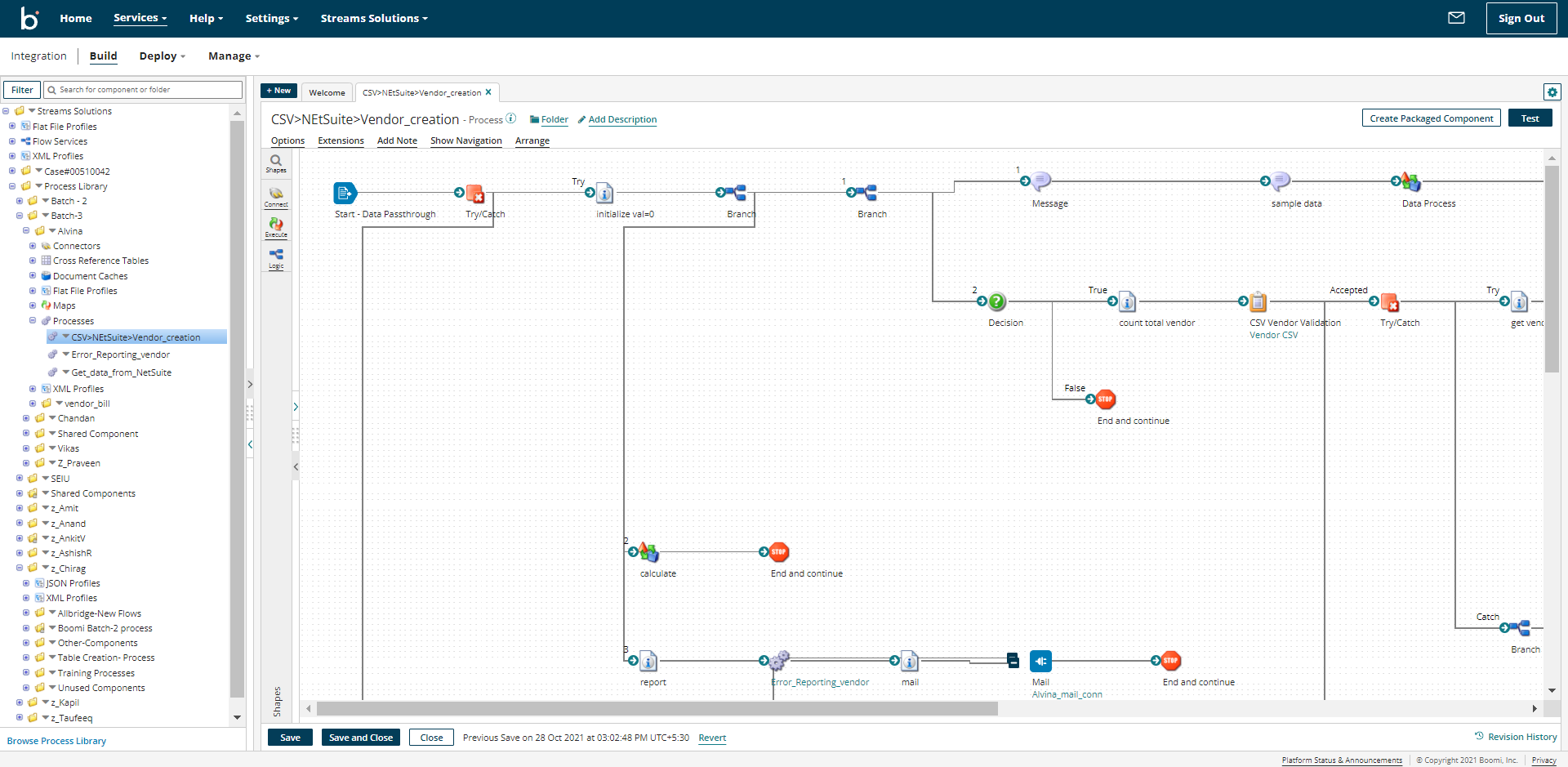 On May 2nd, 2021, Boomi is acquired by Francisco Partners and TPG from Dell.
Why to prefer Boomi as Integration Service?
STREAMS Solutions is an authorized partner with Boomi for integration, implementation, and consultation in Washington DC and Virginia. We have also worked with various enterprise application integrations in past and have found that Boomi can be an ideal choice because of its intelligent connectivity & integration solutions. Here are the core reasons behind your preference for Boomi as your iPaaS:
Enhanced Connectivity
As a unified and productive mongrel integration result with a strong API strategy, Dell Boomi can break indeed the most gruelling connectivity problems. The API- led connectivity of the iPaaS result allows you to make a network of apps, data, and bias and connect with apps, data, and business systems anywhere (on- demesne or in the pall). Another major benefit of Dell Boomi iPaaS is that it has a flexible armature adaptable for every business. You indeed customize the iPaaS platform as per your business requirements. It comes with robust tools, standard APIs, connectors, and applicable law blocks using which you can enhance the operation networks the way you want. Dell Boomi comes with predefined processes or modules that can be dragged and dropped to achieve integration of any kind, while also icing custom law scripting to connect to 200 software's and 100+ endpoints.
Better API Environment
With a simple visual interface, Boomi comes with a full-bodied API life cycle and toolkit that lets developers quickly develop, publish, and manage their APIs with less coding efforts. You can use the reporting dashboard within the platform to centrally supervise the API environment and send relevant data to key internal and external stakeholders.
Data Roster and Preparation
Boomi's recent accession of Unifi gives stoners a new set of tools to break down walls of functional data silos, making their information more accessible. Boomi's Data Roster and Preparation (DCP) creates a cooperative AI that adapts predicated operations to meliorate business issues.
There are four primary areas where Boomi's DCP makes operations easier for IT in comparison to individual data operation results
Architectural Simplification – microservices architecture simplifies deployment
Total cost of power – lower resources and structure
Security and authorizations – rules and permissions populate across the entire Boomi platform
Scalability –customers can scale up or down as needed
Automatic Resolutions
Boomi Resolve automatically suggests resolutions for common error messages. It becomes more intelligent and helpful as it identifies common issues and recommends solutions, which accelerates the integration process.
Resolving Enterprise challenges
Every organization is looking to get more out of mastering data. While this means different things to different organizations, to many, at its core this means one or more of:
Being more agile in mastering and working with data: Realising return on investment on data projects within weeks, not months or years.
Lowering the total cost of ownership: By avoiding the expense and heartaches of 'old school' master data management products locked within data domains and organisational silos; and
Improving operational efficiency: By breaking through silos and creating 360˚ visibility across products, customers, colleagues, and partners.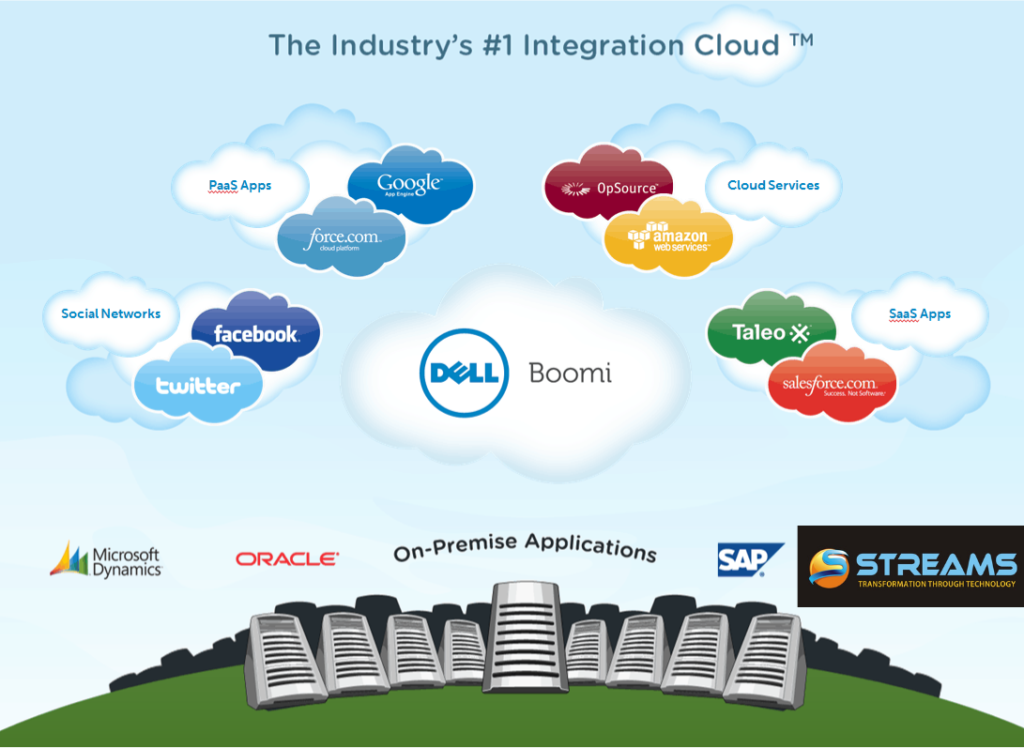 Application that can connect with Boomi
Boomi provides faster, simpler, and more efficient integration between business units, customers and partner ecosystem with vast selection of technology and application connectors.
Boomi can connect with:
Cloud to Cloud
SaaS to SaaS (software-as-a-service)
Cloud to On-Premise System
On-premise to On-premise
B2B integration
These are the top integrators with Boomi
| | | |
| --- | --- | --- |
| Amazon S3 | Oracle NetSuite ERP | Microsoft Dynamics CRM |
| Google Cloud | Shopify | Salesforce |
| SAP | Oracle E-Business Suite | Workday |
| Magento | IFS | Snowflake |
| Amazon SQS | Autotask | Atmosphere API |
| Google Ad Manager | Google Big Query | Google G Suite |
| Microsoft Azure SQL | MongoDB | Sage 50 |
| SAGA TalentSpace | Ultipro | Twilio |
Conclusion:
Currently, Boomi is the most favourite iPaaS vendor and a global leader in the cloud integration environment. According to the Forrester research on the clients of the iPaaS platform:
Staff productivity has improved by 70%.
Businesses have saved $1.5mn in infrastructure cost and management.
Businesses have saved over $1.1mn they had to spend on legacy software.
Over $1.1mn saved by eliminating license fees that businesses had to pay on earlier integration solutions and reducing unnecessary burden on the IT staff.
Boomi gathered $3.4mn in incremental revenue.
Development times reduced by 70%.
STREAMS Solutions offers expert Boomi consulting services, specializing in data integration, data hub development, workflow automation, and API design in Virginia, and Washington DC area. We are a Boomi certified partner, offering Boomi consulting services integration and implementation. Our team of experts is readily available to help your business create an effective Dell Boomi workflow and provide any training, as well as ongoing support.
Get better understanding regarding Boomi iPaaS services, connect with our expert in 30 minutes one to one meeting for free: https://calendly.com/oliverviegas/30min