Many small businesses struggle with their accounting records, clean and crystal reports, preparation of balance sheets, and profit calculation. It is a common expectation that manual records can have some error points and their finding is even tougher. Thankfully, there are several accountancy tools in the market that is resolving a great problem with highly compatible accounting features and quick calculations, which can automate many of the tasks involved in financial management. NetSuite and QuickBooks are two of the most popular options available. Both NetSuite and QuickBooks are highly functional, feature-rich, and designed to help businesses automate and streamline their accounting tasks and financial processes. 
While both solutions help businesses and if you are looking for stronger accounting support, it is important to realize that these two enterprise systems are, in fact, hugely different. It becomes crucial to first consider your company's specific needs, projected growth, and short-term and long-term plans while determining the best solution for your business. 
In the battle of NetSuite vs QuickBooks, you will have a secure line to demonstrate what value each platform is adding to your table, which will help you to make a stronger decision as to which solution is a better fit for your company. 
NetSuite vs QuickBooks: An Overview
NetSuite is a suite of cloud-based business management applications that includes full-featured accounting functionality, CRM, e-commerce, HR management software (HRMS), professional services automation, and more that provides real-time data with customizable fields and role-based dashboards. Oracle NetSuite is the #1 business management system on the market that is suitable for small companies looking for a comprehensive solution to support business processes as well as established companies ready to expand. 
QuickBooks is a great small business accounting software for U.S.-based SMBs, SaaS start-ups, etc. It is easy to use, making it a go-to solution for the smaller companies or start-ups looking for a quick fix. QuickBooks accounting software allows for the creation and management of custom invoices, check to print, accounts receivable and payable, inventory management, expenses tracking, and automated online banking. Data can be accessed from mobile devices and automatically syncs to a dashboard for real-time viewing of reports and accounts. QuickBooks allows exporting of data to CSV, and can integrate with 650+ widely used business tools.
Read Also: What is NetSuite? Features and Benefits of NetSuite ERP
NetSuite vs QuickBooks: Features
In the basic term, NetSuite and QuickBooks have been developed for the same purpose, to facilitate the accounting system and reporting. Both, NetSuite, and QuickBooks are equipped with the same accounting functionalities from Ledger Entry, Taxation, to Inventory Management. Both the systems are cloud-based, and allow you access from anywhere with an active internet connection. To be specific, NetSuite is an ERP tool having plenty of great features, but on the other hand, QuickBooks is merely an accounting system designed to meet day-to-day business financial activities.  
NetSuite categorizes the core features of its system in the following categories: 
Financial management: Finance and accounting, billing, revenue recognition, financial reporting, global accounting, and consolidation. 
Financial planning: Planning, budgeting, forecasting. 
Order management: Pricing and promotions, sales order management, returns management. 
Procurement: Sourcing, purchasing, payments. 
Production management: Product data management, work order management, planning and scheduling, quality assurance. 
Supply chain management: Planning, execution, collaboration, support. 
Warehouse and fulfillment: Inbound logistics, outbound logistics, inventory management, warehouse solutions. 
Apart from these, it offers various useful features i.e., customizable general ledger, AR and AP management, automation in domestic and global tax compliance, payment management with SuitePayments, recurring billing and service management, multiple location inventory tracking, third party integration, csv export and import, and advanced reporting & forecasting tool. 
As previously explained QuickBooks is an accounting system for small business enterprises, it has some great accounting features that are widely being used for day-to-day financial activities. QuickBooks features have been categorized in four parts named on its plans: 
Simple Start: Income and expense tracking, Tax planning tools, Invoicing and payment processing, Mileage tracking, Reporting and Estimates, Sales, and Sales tax tracking. 
Essentials: The next plan, QuickBooks Online Essentials, offers all the features of Simple Start, as well as Bill Management, and Time tracking, for up to three users.
Plus: The QuickBooks Online Plus plan includes all the functionality of Simple Start and Essentials, plus it allows up to five users, project profitability tracking, and inventory tracking.
Advanced: The final QuickBooks Online plan, Advanced, is the most comprehensive of all the web-based versions of QuickBooks. This plan includes all the features of the first three plans as well as powerful reporting, up to three accounts for business accountants, unlimited chart of accounts entries, unlimited tracked classes, and locations, import and sends batch invoices, business analytics and insights, customizable access by role, enhanced custom fields, simplified bill payments, workflow management, batch transactions, csv export.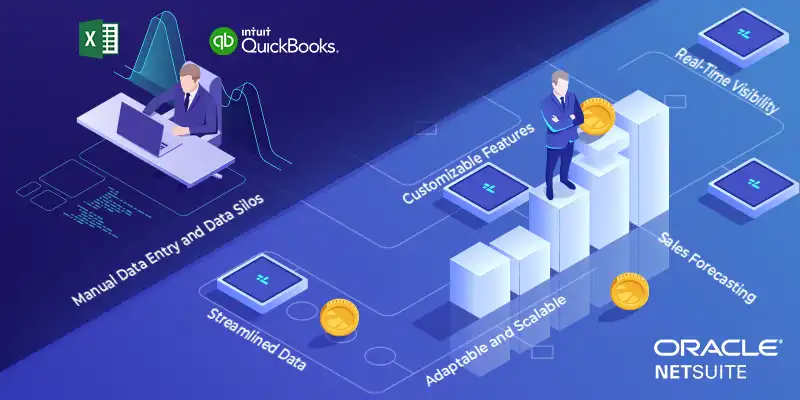 NetSuite vs QuickBooks: Pricing
Although NetSuite and QuickBooks have the same overall functionality and purpose, when it comes to their features, NetSuite ERP offers enterprise-level tools that extend beyond the reach of QuickBooks Online. Thus, when comparing NetSuite vs. QuickBooks in terms of pricing, the two largely differ. 
NetSuite ERP offers customized pricing like many enterprises level business software. It means instead of publishing pricing on its website with a quick checkout option and plan activation in steps, it invites you to contact support and work with them to come up with the best pricing plan. Its prices depend on various customized features and variables, size of business, uses, user requirements, bundle of modules, etc. From the reference of various online journals, NetSuite plan starts with $ 999 monthly licensing fee, plus a per-user fee that starts at $99 a month.  
QuickBooks offers a much more straightforward pricing plan, listed on their website, categorized into different four categories having some additional features in the next level of plan. While checkout they also offer to add some extra services to your pricing i.e., one-time setup fee, and a monthly Payroll module plan. QuickBooks starts at as low as $15 per month. It also offers a 30-day free trial.  
QuickBooks pricing is cheaper in comparison to NetSuite, but it is suitable for small enterprises that are in search of a basic accounting tool. NetSuite allows adding unlimited users, which is limited to up to 40 maximum in QuickBooks. 
NetSuite vs QuickBooks: Global Business Support
Businesses with multiple locations require multiple systems to keep track of important business data. When the data is separated in different locations, it is harder to find the key performance indicators to make decisions. Lack of communication between locations can create problems with inventory levels and other important resources. When data is stored in one universal place, it is easily accessible from multiple locations without having to be reconciled. 
NetSuite offers "global fluency" in regulatory, monetary, and linguistic areas. If you decide to do business with other countries, it is all managed in the same system. It supports multi-currencies features. QuickBooks bookkeeping software does not support multi-currencies. 
NetSuite vs QuickBooks: Conclusion
Despite some basic similarities, NetSuite, and QuickBooks have been designed for different types of customers. Where QuickBooks is suitable for freelancers, small enterprises, sole-proprietorship businesses, mid-level companies who require an accounting software with some advanced features including Inventory management, Payroll, Expenses tracking, profitability reporting, etc. On the other hand, NetSuite is a must-go-to software for multi-location businesses, growing business, and large enterprises that need advanced features at a unified level with a high level of authenticity and security. 
For more insight to help you evaluate your financial management software options, connect with our experts for a quick consultation for free. Reserve your sheet now