The API economy refers to the growing ecosystem of businesses that are using APIs (Application Programming Interfaces) to create new revenue streams, improve customer experiences, and foster innovation. APIs allow different software systems to communicate and share data with one another, which enables companies to create new products and services by leveraging the capabilities of existing systems.
"The API economy is an enabler for transforming a business or organization into a platform."
The research firm Gartner asserts that APIs make it simpler to connect and integrate people, places, systems, data, and algorithms. This creates new user experiences, shares data and information, authenticates people and things, enables transactions, uses third-party algorithms, and develops new products, services, and business models. This enables all participants to capture value, and as a result, platforms multiply value creation.
Impact of API economy on Businesses and Benefits
The API economy has had a tremendous impact on businesses, both large and small. It allows organizations to access valuable data and insights quickly and efficiently. This data can be used to improve customer experience, develop better products, and increase profitability. APIs are also used to automate processes and reduce manual work, resulting in cost savings.
APIs are used to develop new services and increase customer loyalty. It also enables businesses to open up their data, content, and services to external developers, and end-user organizations, allowing them to create new products and services quickly. Finally, it can provide access to new markets and customers, which can help the company grow and expand.
The key benefits of the API Economy are:
Faster Development and Reducing Go-to-Market Time
Monetization
Security and Control
Improved Customer Experience
Data Access and Management
STREAMS in Clients' Digital Transformation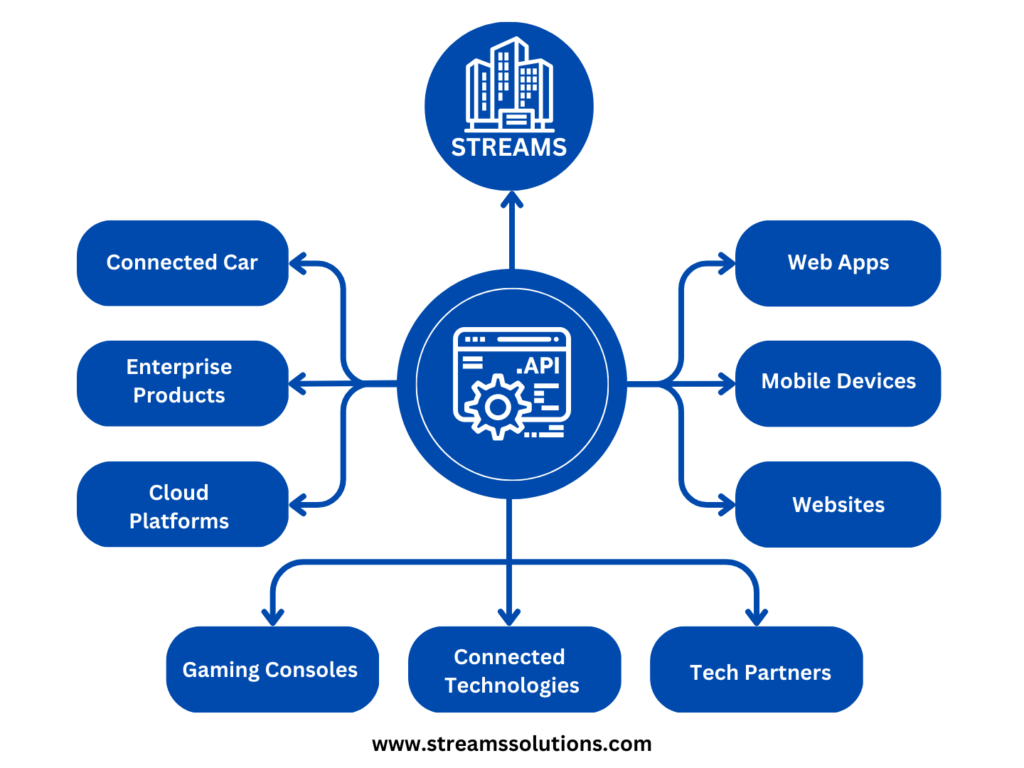 STREAMS is using APIs to enhance our clients' digital journey in several ways. We use APIs to integrate leading enterprise products with other systems, such as CRM or ERP software. This provides customers with a more seamless and efficient experience.
We use APIs towards the following systems:
To expedite the development of new functionalities and improvements to existing features, which frequently boost, and upgrade an existing digital experience.
Exposing APIs to add value for customers, including end users and other businesses, to expand clients' competency for new revenue generation, market share, and reach.
API management platforms, which are typically used for the security and monitoring of APIs.
API Development (Extending Enterprise or Custom Platforms)
STREAMS API development service enables capabilities of our clients to share their services and data with their internal and external users, and partners. Our technical team provides robust and secure API architecture development practices.
The role of API economy in our customers' transformation journey
The API economy plays an increasingly important role in the transformation journeys of organizations. It enables the power of automation for organizations to integrate different services, applications, and platforms for a more efficient workflow. Which in turn, helps organizations to access and share data, services, and applications across multiple platforms quickly and easily. With custom-evaluated and optimized API solutions, STREAMS increased the capabilities of clients to:
Reduce Operation Cost
Increase Efficiency
Expedite Delivery
Secure Tunnel for the data
Improve Customer Experience
Increase Profitability
STREAMS is using APIs to create opportunities for our clients to create new revenue streams, improve customer experiences, improve their operations, offer new services to customers, and foster innovation. This helps them to access, share, and leverage data more efficiently, which in turn helps organizations to rapidly scale and launch new capabilities to customers and allows them to better compete in the digital economy.
Do you have more questions regarding API Economy, or How STREAMS helps our clients in enhancing their digital journey through API Economy? Drop your query and unlock the full potential of your business with the help of our API experts.